Key Specifications
| | | | | | | | | | | | |
| --- | --- | --- | --- | --- | --- | --- | --- | --- | --- | --- | --- |
| Part Number | Description | Status | VCCA(Min)(V) | VCCA(Max)(V) | VCCB(Min)(V) | VCCB(Max)(V) | Max Data Rate(Mbps) | No. of Bits | Operating Temperature Range(℃) | Pin/Package | EV Kit Available? |
| UM2001P | 1-Bit Bidirectional Voltage-Level Translator for I2C-bus and SMBus Application | ACTIVE | 1 | 3.3 | 1.8 | 5 | 66 | 1 | -40 to 85 | 6/SOT363 | |
View All>>
Product Description
The UM2001P is a bidirectional voltage level translator operational from 1.0V to 3.6V (VCCA) and 1.8V to 5.5V (VCCB), which allows bidirectional voltage translations between 1.0V and 5V without the need for a direction pin in open-drain or push-pull applications. The UM2001P is a 1-bit level translator. Its transmission speeds are below 33MHz for an open-drain system with a 50pF capacitance and a pull-up resistor of 197Ω.
The low ON-state resistance (Ron) of the switch allows connections to be made with minimal propagation delay. When EN is high, the translator switch is ON, and the A I/O is connected to the B I/O, allowing bidirectional data flow between ports. When EN is low, the translator switch is off, and a high-impedance state exists between ports.
The translators provide excellent ESD protection to lower voltage devices, and at the same time protect less ESD-resistant devices.
Features
- Provides Bidirectional Voltage Translation with No Direction Pin
- Less than 1.5 ns Maximum Propagation Delay
- Low 3.5Ω ON-State Connection between Input and Output Ports Provides Less Signal Distortion
- 5V Tolerant I/O Ports to Support Mixed-Mode Signal Operation
- High-Impedance A and B Pins for EN = LOW
- Latch up Free Operation
- Flow through Pinout for Ease of Printed-Circuit Board Trace Routing
- ESD Protection Exceeds:
4kV HBM per JESD22-A114
- Package Offered: SOT363
Typical Application Circuits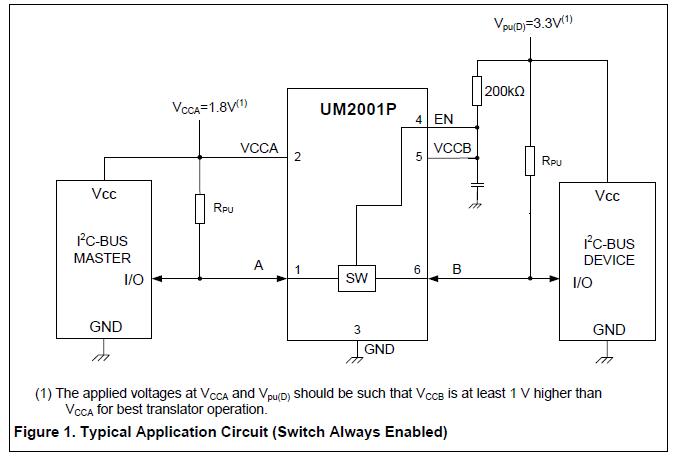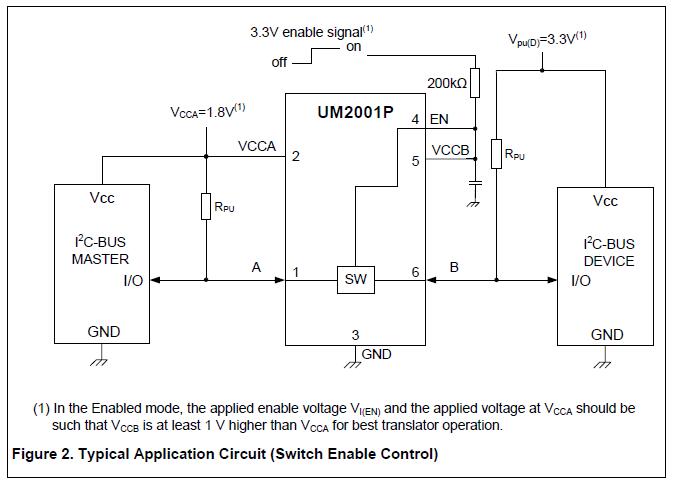 Applications
- SPI, MICROWIRE, and I2C Level Translation
- Low-Voltage ASIC Level Translation
- Smart Card Readers
- Cell-Phone Cradles
- Portable POS Systems
- Portable Communication Devices
- Low-Cost Serial Interfaces
- Cell-Phones
- GPS
- Telecommunications Equipment
- Consumer Electronics
- Household Appliances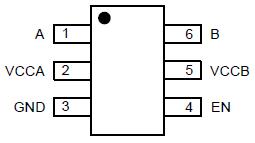 Ordering Information
Part Number

Packaging Type

Marking Code

Shipping Qty

UM2001P

SOT363

UA3

3000pcs/7Inch

Tape & Reel