Key Specifications
| | | | | | | | | | | | | | | |
| --- | --- | --- | --- | --- | --- | --- | --- | --- | --- | --- | --- | --- | --- | --- |
| Part Number | Description | Status | SubFamily | Transient Standards | P (W) at 8/20 usec | VRWM MAX (V) | IR MAX at VRWM uA at 25°C | VBR MIN (V) | VPT MIN (V) | CTOT MAX (pF) L-G at VR = 0V | Lines: Uni-directional Protection | Lines: Bi-directional Protection | Pin/Package | EV Kit Available? |
| UESD6V85CT36 | 5-Line ESD Protection Diode Array | ACTIVE | General Purpose Protection | IEC 61000-4-2 | 140 | 5 | 0.1 | 6 | | 50 | 5 | 0 | 6/SOT363 | |
View All>>
Product Description
The UESD6V85CT36 of TVS array is designed to protect sensitive electronics from damage or latch-up due to ESD, for use in applications where board space is at a premium. It is unidirectional device and may be used on lines where the signal polarities are above ground, each device will protect up to five lines.
TVS diodes are solid-state devices feature large cross-sectional area junctions for conducting high transient currents, specifically for transient suppression. It offers desirable characteristics for board level protection including fast response time, low clamping voltage, and no device degradation.
The UESD6V85CT36 may be used to meet the ESD immunity requirements of IEC 61000-4-2, Level 4. The small package makes them ideal for use in portable electronics such as cell phones, PDAs, notebook computers, and digital cameras.
Features
- Transient Protection for Data Lines to IEC 61000-4-2 (ESD) ±15kV (Air), ±8kV (Contact)
- Protects Five I/O Lines
- Ultra-Small SC70-6/SC88/SOT363 Package
- Working Voltages: 5V
- Low Leakage Current
- Low Operating and Clamping Voltage
- Solid-State Silicon Avalanche Technology
Applications
- Cellular Handsets & Accessories
- Cordless Phones
- Personal Digital Assistants (PDAs)
- Notebooks & Handhelds
- Portable Instrumentation
- Digital Cameras
- Peripherals
- MP3 Players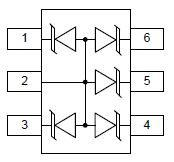 UESD6V85CT36


Electrical Characteristics
Parameter

Symbol

Conditions

Min

Typ

Max

Unit

Reverse Stand-Off Voltage

VRWM

5

V

Reverse Breakdown Voltage

VBR

IT=1mA

6

6.8

7.2

V

Reverse Leakage Current

IR

VRWM=5V, T=25°C

0.1

μA

Clamping Voltage

VC

IPP=5A, tP=8/20μs

9.1

V

IPP=11A, tP=8/20μs

13

Junction Capacitance

CJ

Pin 1, 3, 4, 5, 6 to 2

VR=0V, f=1MHz

40

50

pF

Pin 1, 3, 4, 5, 6 to 2

VR=2.5V, f=1MHz

30

40
Ordering Information
Working Voltage

Packaging Type

Channel

Marking Code

Shipping Qty

UESD6V85CT36

5V

SC70-6/

SC88/

SOT363

5

52C

3000pcs/7Inch

Tape & Reel