Key Specifications
| | | | | | | | | | | | | |
| --- | --- | --- | --- | --- | --- | --- | --- | --- | --- | --- | --- | --- |
| Part Number | Description | Status | SubFamily | VCC(Min)(V) | VCC(Max)(V) | Configuration | Bandwidth(Max)(MHz) | ICC(Max)(mA) | Ron(Typ)(Ohms) | Operating Temperature Range(℃) | Pin/Package | EV Kit Available? |
| UM3156 | 低电压单刀双掷(SPDT)模拟开关 | ACTIVE | High Bandwidth Switch | 1.65 | 5.5 | 1 × SPDT | 230 | 0.01 | 4 | -40 to 85 | 6/SOT363 | Y |
View All>>
Product Description
The UM3156 is an advanced CMOS analog switch fabricated with silicon gate CMOS technology. It achieves very low propagation delay and RDS(ON) resistances while maintaining CMOS low power dissipation. These make it ideal for portable and battery power applications.
The switch conducts signals within power rails equally well in both directions when on, and blocks up to the power supply level when off. Break-before-make is guaranteed.
The select pin has over-voltage protection that allows voltages above VCC, up to 6.5V to be present on the pin without damage or disruption of operation of the part, regardless of the operating voltage.
The UM3156 can maintain low power consumption for rail-to-rail signaling as long as the control signal input is held at a level that is greater than VIH minimum and less than VIL maximum by improving the control circuitry input buffer. so the part can be used in mixed voltage rail environments, especially services the mobile handset applications very well allowing for the direct interface with baseband processor general purpose I/Os, and it is no longer necessary to have the control input equal to VCC to maintain low power consumption
Features
- Control Inputs are 5V Tolerant
- Low Charge Injection
- Excellent ON-State Resistance Matching
- Low Total Harmonic Distortion (THD)
- 1.65V to 5.5V Single-Supply Operation
- ESD Performance: Human Body Model>2kV; Machine Model>200V
- SC70-6/SC88/SOT363 Package
- Pb-Free Package
Applications
- Sample-and-Hold Circuits
- Battery-Powered Equipment
- Audio and Video Signal Routing
- Communication Circuits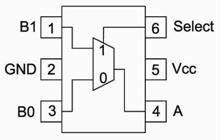 Function Table
| | |
| --- | --- |
| Select Input | Function |
| L | B0 Connected to A |
| H | B1 Connected to A |
Ordering Information
Part Number

Packaging Type

Marking Code

Shipping Qty

UM3156

SOT363

U73

3000pcs/7Inch

Tape & Reel