Key Specifications
| | | | | | | | | | | | | | | |
| --- | --- | --- | --- | --- | --- | --- | --- | --- | --- | --- | --- | --- | --- | --- |
| Part Number | Description | Status | Reset Out | treset (min) | Watchdog Feature | Watchdog Timeout | Manual Reset | Power Fail Comparator | Reset Thresh. Accur. (@ +25°C) (%) | Icc (max) (µA) | RoHS Available | Oper. Temp. (°C) | Pin/Package | EV Kit Available? |
| UM803XSR | 3-Pin Microprocessor Reset Circuits | ACTIVE | Open-drain, active LOW | 140ms | No | | No | No | 2.5 | 0 | Yes | -40 to 85 | 3/SOT23 | |
View All>>
Product Description
The UM803 is a microprocessor (μP) supervisory circuit used to monitor the power supplies in μP and digital systems. It provides excellent circuit reliability and low cost by eliminating external components and adjustments when used with +5V, +3.3V, +3.0V or +2.5V powered circuits.
The circuit performs a single function: it asserts a reset signal whenever the VCC supply voltage declines below a preset threshold, keeping it asserted for at least 140ms after VCC has risen above the reset threshold. Reset thresholds suitable for operation with a variety of supply voltages are available.
The UM803 has an open-drain output stage. The UM803's open-drain RESET output requires a pull-up resistor that can be connected to a voltage higher than VCC. The UM803 has an active-low RESET output. The reset comparator is designed to ignore fast transients on VCC, and the outputs are guaranteed to be in the correct logic state for VCC down to 1V.
Low supply current makes the UM803 ideal for use in portable equipment. The UM803 is available in a 3-pin SOT323 and SOT23 package.
Features
- No External Components
- Power Supply Transient Immunity
- Guaranteed Reset Valid to VCC=+1V
- Precision VCC Monitoring of +2.5V, +3V, +3.3V and +5V Supplies
- Fully Specified Over Temperature
- 2μA Supply Current
- 140ms Minimum Power-On Reset Pulse Width
- Available in One Output Configuration:
Open-Drain Active-Low RESET
Output
- 3-Pin SOT323 and SOT23 Packages
- Wide Operation Temperature: -40°C to +85°C
Typical Application Circuit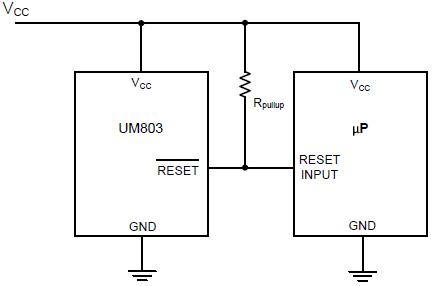 Applications
- Computers
- Controllers
- Portable/Battery-Powered Equipments
- Intelligent Instruments
- Critical μP and μC Power Monitoring
- Automotive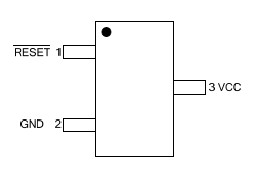 Ordering Information
UM8 XX Z P
XX: Output Type
=03 Open-Drain Active Low
Z: Reset Threshold (V)
=M 4.38
=T 3.08
=R 2.63
=Z 2.32
P: Package Type
=S SOT23-3
=P SOT323
Selection Table
Part Number

RESET Threshold (V)

Timeout Period (ms)

Output Type

Marking Code

Package Type

Shipping Qty

UM803LSR

4.63

240

Open-Drain,

Active Low

3LR

SOT23-3

3000pcs/7Inch

Tape & Reel

UM803MSR

4.38

240

Open-Drain,

Active Low

3MR

UM803JSR

4.00

240

Open-Drain,

Active Low

3JR

UM803TSR

3.08

240

Open-Drain,

Active Low

3TR

UM803SSR

2.93

240

Open-Drain,

Active Low

3SR

UM803RSR

2.63

240

Open-Drain,

Active Low

3RR

UM803ZSR

2.32

240

Open-Drain,

Active Low

3ZR