Key Specifications
| | | | | | | | | | | | | | | |
| --- | --- | --- | --- | --- | --- | --- | --- | --- | --- | --- | --- | --- | --- | --- |
| Part Number | Description | Status | Reset Out | treset (min) | Watchdog Feature | Watchdog Timeout | Manual Reset | Power Fail Comparator | Reset Thresh. Accur. (@ +25°C) (%) | Icc (max) (µA) | RoHS Available | Oper. Temp. (°C) | Pin/Package | EV Kit Available? |
| UM809xxP | 3-Pin, Low-Power μP Reset Circuit with Push-Pull /RESET | ACTIVE | Push-pull, active LOW | 140ms | No | | No | No | 2.5 | 5 | Yes | -40 to 85 | 3/SOT323 | |
View All>>
Product Description
The UM809/810 series are ultra low current, cost effective system supervisory circuits designed to monitor the power supplies in digital systems. They provide a reset signal to the host processor when necessary, offer excellent circuit reliability & low cost by eliminating external component and adjustment when used with +5V, +3.3V, +3.0V or other voltage powered circuits.
The reset output is driven active within 10µs of power supply falling through the reset voltage threshold. Reset is keeping active for a minimum of 140ms after system power supply has risen above the reset threshold. Reset threshold suitable for operation with variety of supply voltage are available.
UM809 has an active-low reset output while UM810 has an active-high reset output. The UM809/810 are optimized to reject fast transient glitches on the power supply line, and the reset output are guaranteed to be in the correct logic state for power supply VCC down to 1V.
Each of these ICs consists of a voltage reference comparator, resistors for detector threshold setting, delay generator, output driver & hysteresis circuit. The reset threshold & time delay are fixed with high accuracy internally and does not require any external adjustment.
Low supply current of 3µA (VCC=3V) makes UM809/810 ideal for low power application. Both devices are available in 3 Pin SOT323 or SOT23 packages.
Features
- Wide Operation Voltage Range of 1V to 10V
- Typical Quiescent Current of 3μA
- No External Components
- 3-Pin Small SOT323 and SOT23 Packages
- VCC Transient Immunity
- Correct Logic Output Guaranteed to VCC=1.0V
- Precision VCC Monitor for 2.5V, 3.0V, 3.3V and 5.0V Supplies
- Available in 2 Output Configurations
Push-Pull Low Active Reset Output (UM809)
Push-Pull High Active Reset Output (UM810)
- Wide Operation Temperature: -40°C to +85°C
Typical Application Circuit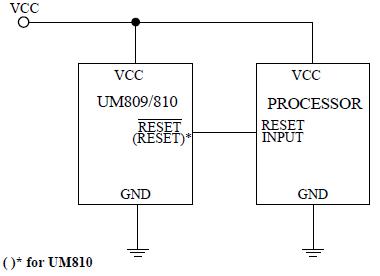 Applications
- CPU and Logic Circuit Reset
- Power Fail Detectors
- Computers
- Embedded Systems
- Battery-Powered Equipments
- Intelligent Instruments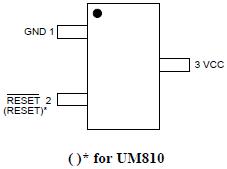 Ordering Information
UM8 XX ZZ P
=10 Push-pull Active High

Selection Table


| | | | | | |
| --- | --- | --- | --- | --- | --- |
| Part Number | Top Marking | RESET Threshold (V) | Timeout Period (ms) | Output Type | Package Type |
| UM809AP | VTM | 5.00 | 240 | Push-Pull, Active Low | SOT323 |
| UM809BP | VTJ | 4.90 | 240 | Push-Pull, Active Low | SOT323 |
| UM809CP | VTK | 4.80 | 240 | Push-Pull, Active Low | SOT323 |
| UM809DP | VTN | 4.70 | 240 | Push-Pull, Active Low | SOT323 |
| UM809LP | VLY | 4.63 | 240 | Push-Pull, Active Low | SOT323 |
| UM809EP | VTQ | 4.50 | 240 | Push-Pull, Active Low | SOT323 |
| UM809MP | VMY | 4.38 | 240 | Push-Pull, Active Low | SOT323 |
| UM809FP | VTS | 4.30 | 240 | Push-Pull, Active Low | SOT323 |
| UM809GP | VTT | 4.20 | 240 | Push-Pull, Active Low | SOT323 |
| UM809HP | VSL | 4.10 | 240 | Push-Pull, Active Low | SOT323 |
| UM809JP | VJY | 4.00 | 240 | Push-Pull, Active Low | SOT323 |
| UM809IP | VSJ | 3.90 | 240 | Push-Pull, Active Low | SOT323 |
| UM809KP | VSK | 3.80 | 240 | Push-Pull, Active Low | SOT323 |
| UM809NP | VSN | 3.70 | 240 | Push-Pull, Active Low | SOT323 |
| UM809OP | VSP | 3.60 | 240 | Push-Pull, Active Low | SOT323 |
| UM809PP | VSQ | 3.50 | 240 | Push-Pull, Active Low | SOT323 |
| UM809QP | VSR | 3.40 | 240 | Push-Pull, Active Low | SOT323 |
| UM809UP | VSS | 3.30 | 240 | Push-Pull, Active Low | SOT323 |
| UM809VP | VST | 3.20 | 240 | Push-Pull, Active Low | SOT323 |
| UM809TP | VTY | 3.08 | 240 | Push-Pull, Active Low | SOT323 |
| UM809WP | VRM | 3.00 | 240 | Push-Pull, Active Low | SOT323 |
| UM809SP | VSY | 2.93 | 240 | Push-Pull, Active Low | SOT323 |
| UM809XP | VRK | 2.80 | 240 | Push-Pull, Active Low | SOT323 |
| UM809YP | VRN | 2.70 | 240 | Push-Pull, Active Low | SOT323 |
| UM809RP | VRY | 2.63 | 240 | Push-Pull, Active Low | SOT323 |
| UM809AAP | VRQ | 2.50 | 240 | Push-Pull, Active Low | SOT323 |
| UM809ABP | VRR | 2.40 | 240 | Push-Pull, Active Low | SOT323 |
| UM809ZP | VZY | 2.32 | 240 | Push-Pull, Active Low | SOT323 |
| UM809ACP | VRT | 2.20 | 240 | Push-Pull, Active Low | SOT323 |
| UM809ADP | VZL | 2.10 | 240 | Push-Pull, Active Low | SOT323 |
| UM809AEP | VZM | 2.00 | 240 | Push-Pull, Active Low | SOT323 |