Key Specifications
| | | | | | | | | | | | | | | | | |
| --- | --- | --- | --- | --- | --- | --- | --- | --- | --- | --- | --- | --- | --- | --- | --- | --- |
| Part Number | Description | Status | Supply Voltage(Nom)(V) | No. of TX | No. of RX | Duplex | Signaling Rate(Max)(Mbps) | ESD Contact (kV) | ESD Air (kV) | Number of Nodes | Common Mode Range(V) | Fail Safe | ICC(Max) (mA) | Operating Temperature Range(℃) | Pin/Package | EV Kit Available? |
| UM3089EESD | Hot-Swappable Auto Polarity Reversal Half-duplex RS485 Transceiver | Active | 5 | 1 | 1 | Half | 0.5 | ±8 | ±15 | 256 | -7 to 12 | Idle, Open, Short | 0.7 | -40 to 85 | 14/SOP | |
View All>>
Product Description
The UM3089E series are +5.0V powered, ±15kV ESD protected, fail-safe, hot-swappable, auto polarity reversal RS-485 transceivers. The device includes fail-safe circuitry, which guarantees a logic-high receiver output when the receiver inputs are open, shorted or idle. This means that the receiver output will be logic high if all transmitters on a terminated bus are disabled (high impedance). The UM3089E features reduced slew-rate driver that minimizes EMI and reduces reflections caused by improperly terminated cables, allowing error-free data transmission up to 500kbps. All transmitter outputs and receiver inputs are protected to ±15kV using the Human Body Model and IEC61000-4-2, Air-Gap Discharge.
The UM3089E includes cable auto-invert functions that reverse the polarity of the RS485 bus pins in case the cable is misconnected. Receiver's full fail-safe features are maintained even when the receiver polarity has been reversed.
The transceivers typically draw 300μA of supply current when unloaded, or when fully loaded with the drivers disabled, and 1μA of supply current when shutdown. The device has a 1/8-unit-load receiver input impedance that allows up to 256 transceivers on the bus and is intended for half-duplex communications. The device also has over current protection and thermal shutdown protection.
Features
-Automatic Polarity Reversal RS-485 Transceivers
-1μA Shutdown Current and 300uA Receiver Current
-True Fail-Safe Receiver and Hot-Swappable
-Enhanced Slew-Rate Limiting
-Allows up to 256 Transceivers on the Bus
-Thermal Shutdown
-Current-Limiting for Driver Overload Protection
-ESD Protection for RS-485 I/O Pins
±15kV—IEC61000-4-2, Air-Gap Discharge
±8kV—IEC61000-4-2, Contact Discharge
Typical Operating Circuits

Pin Configurations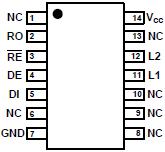 Applications
-Air-Condition, Building Lighting and Environmental Control Systems
-Industrial-Control Local Area Networks
-PROFIBUS® and Other RS-485 Based Field Bus Networks
-High Node Count RS-485 Systems
-Transceivers for EMI-Sensitive Applications
-Smart Meters/Automated Meter Reading Systems
Communication Function Table
INPUTS

OUTPUTS

/RE

DE

DI

A

B

X

H

H/O

H

L

X

H

L

L

H

L

L/O

X

Z

Z

H

L/O

X

Shutdown
Table2. Receiving
INPUTS

OUTPUTS

/RE

DE

VID=VA-VB

RO

L

X

≥-50mV

H

L

X

≤-200mV

L

L

X

Open/Shorted

H

H

H

X

Z

H

L

X

Shutdown

H: High, L: Low, X: Do not care, Z: High impedance.
VA: Input Voltage of RS485 Non-Inverting Bus I/O terminal, VB: Input Voltage of RS485 Inverting Bus I/O terminal.
Ordering Information
| | | | |
| --- | --- | --- | --- |
| Part Number | Marking Code | Operating Temperature | Package Type |
| UM3089EESD | UM3089EESD | -40°C to +85°C | SOP14 |