Key Specifications
| | | | | | | | | | | | | |
| --- | --- | --- | --- | --- | --- | --- | --- | --- | --- | --- | --- | --- |
| Part Number | Description | Status | SubFamily | VCC(Min)(V) | VCC(Max)(V) | Configuration | Bandwidth(Max)(MHz) | ICC(Max)(mA) | Ron(Typ)(Ohms) | Operating Temperature Range(℃) | Pin/Package | EV Kit Available? |
| UM5223 | 0.5Ω Ultra Low ON-Resistance Dual SPDT Analog Switch | ACTIVE | Low Ron Switch | 1.65 | 4.5 | 2 × SPDT | 75 | 0.002 | 0.5 | -40 to 85 | 10/QFN 1.8×1.4 | Y |
View All>>
Product Description
The UM5223 is a low on-resistance (RON), dual single-pole/double-throw (SPDT) analog switch operates from a single +1.65V to +4.5V supply. The device's targeted applications include battery powered equipment that benefit from it's low on-resistance.
The UM5223 features two 0.5Ω RON(max) SPDT switches with 0.15Ω flatness and 0.05Ω matching between channels. The switch offers break-before-make switching (1ns) with tON<60ns and tOFF<40ns at +2.7V.
The switch is available in Pb-free QFN10 package.
Features
- Ultra-Low Ron<0.5Ω at VCC=3.0±0.3V
- RON Flatness of 0.15Ω
- Single-Supply Operation from +1.65V to +4.5V
- Interfaces with 2.8V Chipset
- Full 0-VCC Signal Handing Capability
- Power Off Protection: When VCC=0V, Input Signal can Tolerate up to 4.5V
- High Off-Isolation: -78dB (100kHz)
- Low Crosstalk: -92dB (100kHz)
- Low Distortion: 0.12%
- High Continuous Current Capability: ±300mA through Each Switch
- Lead (Pb)-Free QFN10 Package
Applications
- Cell Phone Audio Block
- Speaker and Earphone Switching
- Portable Instrumentation
- Battery-Operated Equipment
- Modems
- Medical Equipment
- Computer Peripherals
- Ring-Tone Chip/Amplifier Switching
(Top View)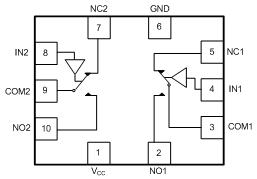 Function Table
| | | |
| --- | --- | --- |
| IN_ | NO_ | NC_ |
| 0 | OFF | ON |
| 1 | ON | OFF |
Ordering Information


Part Number

Packaging Type

Marking Code

Shipping Qty

UM5223

QFN10 1.8×1.4

AB

3000pcs/7Inch

Tape & Reel