Key Specifications
| | | | | | | | | | | | | | | | |
| --- | --- | --- | --- | --- | --- | --- | --- | --- | --- | --- | --- | --- | --- | --- | --- |
| Part Number | Description | Status | SubFamily | Regulated Outputs(.) | Output Options | Iout (Max)(mA) | Vin (Min)(V) | Vin (Max)(V) | Fixed Output Options(V) | Vout (Min)(V) | Vout (Max)(V) | Enable | Under Voltage Lockout | Pin/Package | EV Kit Available? |
| UM1330DA-xx | 150mA, Low Noise, Low Dropout Regulator | ACTIVE | Low Output Noise LDO | 1 | Fixed Output | 150 | 2.7 | 5.5 | | 1.5 | 3.3 | Yes | Yes | 6/DFN 2.0×2.0 | |
View All>>
The UM1330 series are 150mA low dropout regulators design for portable application. A 2.7V to 5.5V input operating voltage range, making them ideal for operation from a single cell lithium ion battery or fixed 3.3V and 5V systems. With low output noise (56μVRMS) and high PSRR (-58dB@1kHz), the UM1330 series are ideal for noise sensitive applications such as RF. While the fast transient response and active shutdown circuitry make them well-suited for powering mixed signal circuitry.
Other features include stability with ultra low ESR ceramic capacitors as small as 1μF, thermal overload protection, output current limiting and auto discharge the output voltage when disabled. The UM1330 series are available in low profile SOT23-5, SOT353 and DFN6 2.0×2.0 packages.
- Input Voltage Range: 2.7V to 5.5V
- Low Quiescent Current: 88μA
- Low Noise: 56μVRMS
- High PSRR: -58dB at 1kHz
- Fast Transient Response
- Stable with Ceramic Output Capacitors
- Low Profile SOT23-5, SOT353 and DFN6 2.0×2.0 Packages
- Wireless Sensor Network
Typical Application Circuit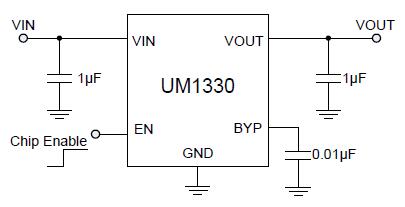 (Top View)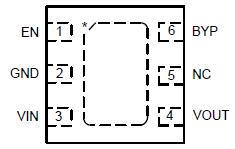 UM1330DA-xx


* The tab on the bottom of the package enhances thermal performance and is electrically connected to GND (substrate level). It is recommended that the tab be connected to the ground plane on the board. If not, the tab can be left open.
Naming Information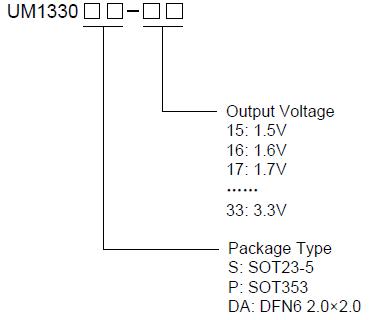 Ordering Information


Part Number

Output Voltage

Packaging Type

Marking Code

Shipping Qty

UM1330DA-15

1.5V

DFN6 2.0×2.0

AA5

3000pcs/7Inch

Tape & Reel

UM1330DA-16

1.6V

AA6

UM1330DA-17

1.7V

AA7

UM1330DA-18

1.8V

AA8

UM1330DA-19

1.9V

AA9

UM1330DA-20

2.0V

AAA

UM1330DA-21

2.1V

AAB

UM1330DA-22

2.2V

AF2

UM1330DA-23

2.3V

AF3

UM1330DA-24

2.4V

AF4

UM1330DA-25

2.5V

AF5

UM1330DA-26

2.6V

AF6

UM1330DA-27

2.7V

AF7

UM1330DA-28

2.8V

AF8

UM1330DA-29

2.9V

AF9

UM1330DA-30

3.0V

AFA

UM1330DA-31

3.1V

AFB

UM1330DA-32

3.2V

AFC

UM1330DA-33

3.3V

AFD
Application Notes
Product Selection Guide
Product Search
Product You Recently Viewed