Key Specifications
| | | | | | | | | | | | | | | | |
| --- | --- | --- | --- | --- | --- | --- | --- | --- | --- | --- | --- | --- | --- | --- | --- |
| Part Number | Description | Status | SubFamily | Regulated Outputs(.) | Output Options | Iout (Max)(mA) | Vin (Min)(V) | Vin (Max)(V) | Fixed Output Options(V) | Vout (Min)(V) | Vout (Max)(V) | Enable | Under Voltage Lockout | Pin/Package | EV Kit Available? |
| UM1451S-xx | 300mA, Low Consumption, Wide Input Voltage Linear Regulator | ACTIVE | High Input Voltage LDO | 1 | Fixed Output | 300 | 0 | 24 | | 2.5 | 5 | No | No | 3/SOT23 | |
View All>>
Product Description
The UM1451 series are a group of positive voltage output, high precision and low power consumption voltage regulators. The maximum i
nput voltage is 24V. The output voltages are available in 100mV steps within a range of 2.5V to 5V. It can also be customized on request.
The UM1451 series have very low power consumption (IQ=3.5μA) which can greatly extend battery life.
The UM1451 series are available in low profile SOT23-3 & SOT89-3 packages.
Features
- Maximum Input Voltage: 24V
- Low Quiescent Current: 3.5μA (Typ.)
- Maximum Output Current: 300mA
- Low Dropout:
- Low Temperature Coefficient: ±150ppm/°C
- Output Current Limit:
400mA@ VOUT=3.3V
Typical Application Circuit

Note 1: Input Capacitor (CIN=1μF) is recommended in all applications.
Note 2: Output Capacitor (COUT=4.7μF/6.8μF) is recommended in all applications to assure the stability of circuit. 1μF Tantalum capacitor or 6.8μF ceramic capacitor is recommended.
Applications
- Battery-Powered Equipment
- Power Management of MP3, PDA, DSC, Mouse, PS2 Games
- Reference Voltage Source
- Hand-Hold Equipment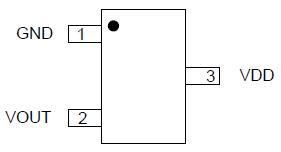 UM1451S-xx
Ordering Information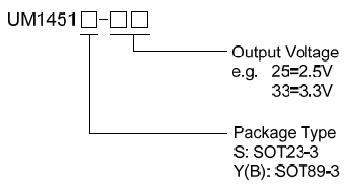 Marking Information
Part Number

Output Voltage

Packaging Type

Marking Code

Shipping Qty

UM1451S-25

2.5V

SOT23-3

5M2

3000pcs/7Inch

Tape & Reel

UM1451S-26

2.6V

5MB

UM1451S-27

2.7V

5MC

UM1451S-28

2.8V

5MD

UM1451S-29

2.9V

5ME

UM1451S-30

3.0V

5MF

UM1451S-31

3.1V

5MH

UM1451S-32

3.2V

5ML

UM1451S-33

3.3V

5MM

UM1451S-34

3.4V

5MJ

UM1451S-35

3.5V

5MK

UM1451S-36

3.6V

5MN

UM1451S-37

3.7V

5MP

UM1451S-38

3.8V

5MQ

UM1451S-39

3.9V

5MR

UM1451S-40

4.0V

5MS

UM1451S-41

4.1V

5MT

UM1451S-42

4.2V

5MY

UM1451S-43

4.3V

5MU

UM1451S-44

4.4V

5MZ

UM1451S-45

4.5V

5U5

UM1451S-46

4.6V

5U6

UM1451S-47

4.7V

5U7

UM1451S-48

4.8V

5U8

UM1451S-49

4.9V

5U9

UM1451S-50

5.0V

5UA