Key Specifications
| | | | | | | | | | | | | | | | |
| --- | --- | --- | --- | --- | --- | --- | --- | --- | --- | --- | --- | --- | --- | --- | --- |
| Part Number | Description | Status | SubFamily | Regulated Outputs(.) | Output Options | Iout (Max)(mA) | Vin (Min)(V) | Vin (Max)(V) | Fixed Output Options(V) | Vout (Min)(V) | Vout (Max)(V) | Enable | Under Voltage Lockout | Pin/Package | EV Kit Available? |
| UM1441S-xx | 30V Input, 100mA Current Limit, Micropower Linear Regulator | ACTIVE | High Input Voltage LDO | 1 | Fixed Output | 100 | 3.6 | 30 | | 2 | 6 | Yes | No | 5/SOT23 | Y |
View All>>
The UM1431/1441 series are high input voltage low quiescent current regulators implemented in CMOS technology. It can accept input voltage as high as 30V with 100mA output current limit. The output voltages are selectable in 100mV steps within a range of 2.0V to 6.0V. 100mA output current limiting is built in to provide protection for the regulators against fault conditions. CMOS technology ensures low voltage drop and low quiescent current.
With a chip enable control pin, the UM1441 can turn off the output and greatly reduce the power consumption by setting the enable pin low.
The UM1431 is available in SOT23-3, SOT23-5 and SOT89-3 packages. The UM1441 is available in SOT23-5 and SOT89-5 packages.
- Input Voltage Range: 3.6V to 30V
- 100mA Output Current Limit
- ±3% Voltage Accuracy at 30mA
5.8μA@VIN=30V (Typical)
- Available Fixed Output Voltage from 2.0V to 6.0V with 0.1V Step
- With Enable Control (UM1441S-xx, UM1441Y-xx)
- UM1431: Low Profile SOT23-3, SOT23-5 and SOT89-3 Packages
UM1441: Low Profile SOT23-5 and SOT89-5 Packages
Typical Application Circuit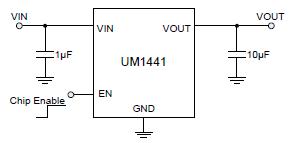 - Communication Equipment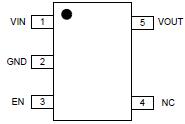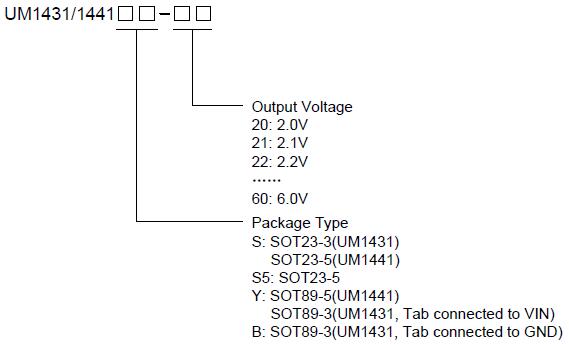 Part Number

Output Voltage

Packaging Type

Marking Code

Shipping Qty

UM1441S-20

2.0V

SOT23-5

4TA

3000pcs/7Inch

Tape & Reel

UM1441S-21

2.1V

4TB

UM1441S-22

2.2V

4T2

UM1441S-23

2.3V

4T3

UM1441S-24

2.4V

4T4

UM1441S-25

2.5V

4T5

UM1441S-26

2.6V

4T6

UM1441S-27

2.7V

4T7

UM1441S-28

2.8V

4T8

UM1441S-29

2.9V

4T9

UM1441S-30

3.0V

4TC

UM1441S-31

3.1V

4TD

UM1441S-32

3.2V

4TE

UM1441S-33

3.3V

4TF

UM1441S-34

3.4V

4TH

UM1441S-35

3.5V

4TL

UM1441S-36

3.6V

4TM

UM1441S-37

3.7V

4TJ

UM1441S-38

3.8V

4TK

UM1441S-39

3.9V

4TN

UM1441S-40

4.0V

4TP

UM1441S-41

4.1V

4TQ

UM1441S-42

4.2V

4TR

UM1441S-43

4.3V

4TS

UM1441S-44

4.4V

4TT

UM1441S-45

4.5V

4TY

UM1441S-46

4.6V

4TU

UM1441S-47

4.7V

4TZ

UM1441S-48

4.8V

4QF

UM1441S-49

4.9V

4QH

UM1441S-50

5.0V

4QL

UM1441S-51

5.1V

4QM

UM1441S-52

5.2V

4QJ

UM1441S-53

5.3V

4QK

UM1441S-54

5.4V

4QN

UM1441S-55

5.5V

4QP

UM1441S-56

5.6V

4QQ

UM1441S-57

5.7V

4QR

UM1441S-58

5.8V

4QS

UM1441S-59

5.9V

4QT

UM1441S-60

6.0V

4QY
Application Notes
Product Selection Guide
Product Search
Product You Recently Viewed