Key Specifications
| | | | | | | | | | | | | | | |
| --- | --- | --- | --- | --- | --- | --- | --- | --- | --- | --- | --- | --- | --- | --- |
| Part Number | Description | Status | SubFamily | Transient Standards | P (W) at 8/20 usec | VRWM MAX (V) | IR MAX at VRWM uA at 25°C | VBR MIN (V) | VPT MIN (V) | CTOT MAX (pF) L-G at VR = 0V | Lines: Uni-directional Protection | Lines: Bi-directional Protection | Pin/Package | EV Kit Available? |
| UM5062 | 5V Dual Line ESD Protection Diode Array | ACTIVE | General Purpose Protection | IEC 61000-4-2 | 140 | 5 | 0.1 | 6 | | 55 | 2 | 1 | 3/QFN 1.4×1.1 | |
View All>>
Product Description
The UM5062 ESD protection diode is designed to replace multilayer varistors (MLVs) in portable applications such as cell phones, notebook computers, and PDA's. It features large cross-sectional area junctions for conducting high transient currents, offers desirable electrical characteristics for board level protection, such as fast response time, lower operating voltage, lower clamping voltage and no device degradation when compared to MLVs.
The UM5062 ESD protection diode protects sensitive semiconductor components from damage or upset due to electrostatic discharge (ESD) and other voltage induced transient events. The UM5062 is available in a QFN3 1.4mm×1.1mm package with working voltages of 5 volt.
It gives designer the flexibility to protect one or two unidirectional line in applications where arrays are not practical. Additionally, it may be "sprinkled" around the board in applications where board space is at a premium. It may be used to meet the ESD immunity requirements of IEC 61000-4-2, Level 4 (±15kV air, ±8kV contact discharge).
Features
- Transient Protection for Data & Power Lines to
IEC 61000-4-2 (ESD) ±15kV (Air), ±8kV (Contact)
- Small Package for Use in Portable Electronics
- Suitable Replacement for MLV's in ESD Protection Applications
- Protect One or Two I/O Lines
- Low Clamping Voltage
- Stand-off Voltages: 5V
- Low Leakage Current
- Solid-State Silicon-Avalanche Technology
Applications
- Cell Phone Handsets and Accessories
- Microprocessor Based Equipment Personal Digital Assistants (PDA's)
- Notebooks, Desktops and Servers
- Portable Instrumentation
- Cordless Phones
- Digital Cameras
- Peripherals
- MP3 Players
(Bottom View)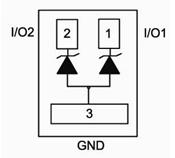 Electrical Characteristics
(T=25°C, Device for 5.0V Reverse Stand-off Voltage)

Parameter

Symbol

Conditions

Min

Typ

Max

Unit

Reverse Stand-Off Voltage

VRWM

5

V

Reverse Breakdown Voltage

VBR

IT=1mA

6

6.8

7.2

V

Reverse Leakage Current

IR

VRWM=5V, T=25°C

0.1

μA

Clamping Voltage

VC

IPP=5A, tP=8/20μs

9.1

V

IPP=11A, tP=8/20μs

13

Forward Voltage

VF

IF=10mA

0.8

V

Junction Capacitance

CJ

VR=0V, f=1MHz

40

55

pF

Junction Capacitance

CJ

VR=2.5V, f=1MHz

30

40

pF
Ordering Information


Working Voltage

Packaging Type

Channel

Marking Code

Shipping Qty

UM5062

5.0V

QFN3 1.4×1.1

2

AD

3000pcs/7Inch
Tape & Reel