Key Specifications
| | | | | | | | | | | | | | | | |
| --- | --- | --- | --- | --- | --- | --- | --- | --- | --- | --- | --- | --- | --- | --- | --- |
| Part Number | Description | Status | SubFamily | Regulated Outputs(.) | Vin(Min)(V) | Vin(Max)(V) | Vout(Min)(V) | Vout(Max)(V) | Iout(Max)(A) | Topology | Special Features | Frequency(kHz) | Operating Temperature Range (°C) | Pin/Package | EV Kit Available? |
| UM3510DA | 1A, 2.25MHz, Synchronous Step-Down DC-DC Converter | ACTIVE | Step-Down (Buck) Converter | 1 | 2.5 | 6 | 0.6 | 6 | 1 | Synchronous Buck | Enable, Power Saving Mode, Fixed Frequency PWM Mode | 2250 | -40 to 85 | 6/DFN 2.0×2.0 | Y |
View All>>
Product Description
The UM3510 is a high efficiency pulse-width-modulated (PWM) synchronous step-down DC-DC converter with an input voltage range of 2.5V to 6.0V. It provides up to 1000mA output current from a single Li-ion cell. The UM3510 operates at 2.25MHz fixed switching frequency and enters Power Save Mode to maintain high efficiency at light load condition.
For low noise applications, the device can be forced into fixed frequency PWM mode by pulling the MODE pin high.
The UM3510 enters shutdown mode and consumes less than 1μA when EN pin is pulled low. Other features include lower internal reference voltage with 2% accuracy, over temperature protection and over current protection.
The UM3510 is available in SOT23-6 and 2mm×2mm 6-pin DFN packages.
Features
- High Efficiency: Up to 95%
- 2.25MHz Constant Switching Frequency
- 1000mA Output Current
- Integrated Main Switch and Synchronous Rectifier. No Schottky Diode Required.
- 2.5V to 6.0V Input Voltage Range
- Low Quiescent Current: 56µA
- Thermal Fault Protection
- <1µA Shutdown Current
Typical Application Circuit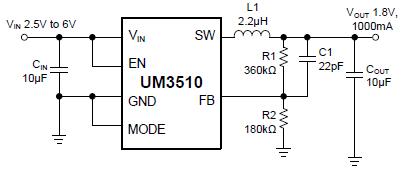 Applications
- Cellular and Smart Phones
- Microprocessors and DSP Core Supplies
- Wireless and DSL Modems
- PDAs, GPS
- WLAN
- Portable Instruments

(Top View)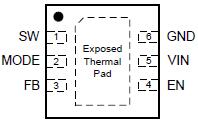 UM3510DA
Ordering Information


Part Number

Packaging Type

Marking Code

Shipping Qty

UM3510DA

DFN6 2.0×2.0

AAH

3000pcs/7Inch

Tape & Reel