Key Specifications
| | | | | | | | | | | | | | | | | | |
| --- | --- | --- | --- | --- | --- | --- | --- | --- | --- | --- | --- | --- | --- | --- | --- | --- | --- |
| Part Number | Description | Status | SubFamily | Transient Standards | L (nH) | R (Ohm) | C (pF), VR=2#5V | Attenuation @ 800 MHz (db) | Attenuation @ 2#5 GHz (db) | VRWM MAX (V) | IR MAX at VRWM uA at 25°C | VBR MIN (V) | CTOT MAX (pF) L-G | Lines: Uni-directional Protection | Lines: Bi-directional Protection | Pin/Package | EV Kit Available? |
| UM8411Z | 8-Line RC EMI Filter with Integrated ESD Protection | ACTIVE | CRC Filter | IEC 61000-4-2 | 0 | 100 | 10 | -36 | -32 | 5 | 0.1 | 6 | 20 | 8 | 0 | 16/DFN 3.3×1.3 | Y |
View All>>
Product Description
The UM8411Z is a low pass filter array with integrated TVS diodes. It is designed to suppress unwanted EMI/RFI signals and provide electrostatic discharge (ESD) protection in portable electronic equipment. This state-of-the-art device utilizes silicon-avalanche technology for superior clamping performance and DC electrical characteristics. It has been optimized for protection of color LCD panels in cellular phones and other portable electronics.
The device consists of eight identical circuits comprised of TVS diodes for ESD protection, and a RC network for EMI filtering. A series resistor value of 100Ω and a capacitance value of 10pF are used to achieve 25dB minimum attenuation from 800 MHz to 2.5GHz. The TVS diodes provide effective suppression of ESD voltages in excess of ±15kV (air discharge) and ±8kV (contact discharge) per
IEC 61000-4-2, level 4.
The UM8411Z is in a 16-pin, RoHS compliant DFN16 package. It measures 3.3mm × 1.3mm. The leads are spaced at a pitch of 0.4 mm and are finished with lead-free Ni Pd. The small package makes it ideal for use in portable electronics such as cell phones, digital still cameras, and PDAs.
Features
- EMI/RFI Filter with Integrated TVS for ESD Protection
- ESD Protection to IEC 61000-4-2 (ESD) Level 4, ±15kV (Air), ±8kV (Contact)
- 25dB Minimum Attenuation: 800MHz to 2.5GHz
- Working Voltage: 5V
- Resistor: 100Ω±15%
- Typical Capacitance: 10pF (VR=2.5V)
- Solid-State Technology
- DFN16 Package: 3.3mm
×
1.3 mm
- Moisture Sensitivity Level 1
Applications
- EMI Filtering and ESD Protection for Data Lines
- Wireless Phones
- Handheld Products
- Notebook Computers
- LCD Displays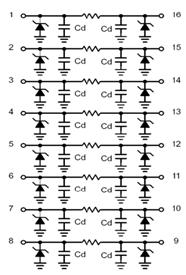 Electrical Characteristics


Parameter

Symbol

Conditions

Min

Typ

Max

Unit

Reverse Stand-Off Voltage

VRWM

5.0

V

Reverse Breakdown Voltage

VBR

IT=1mA

6.0

7.0

8.0

V

Reverse Leakage Current

IR

VRWM=3.3V

100

nA

Total Series Resistance

RA

IR=20mA,

Each Line

85

100

115

Ω

Total Capacitance

Cd

Input to GND, Each Line

VR=0V, f=1MHz

16

20

24

pF

Total Capacitance

Cd

Input to GND, Each Line

VR=2.5V, f=1MHz

9

10

12

pF

Cut-Off Frequency (Note 1)

f3dB

Above this frequency, appreciable attenuation occurs

150

MHz
Note 1: 50Ω source and 50Ω load termination.
Ordering Information


Part Number

Working Voltage

Packaging Type

Channel

Marking Code

Shipping Qty

UM8411Z

5.0V

DFN16 3.3×1.3

8

8402

3000pcs /7Inch
Tape & Reel

Tape Size: 12mm