Key Specifications
| | | | | | | | | | | | | | | |
| --- | --- | --- | --- | --- | --- | --- | --- | --- | --- | --- | --- | --- | --- | --- |
| Part Number | Description | Status | SubFamily | Transient Standards | P (W) at 8/20 usec | VRWM MAX (V) | IR MAX at VRWM uA at 25°C | VBR MIN (V) | VPT MIN (V) | CTOT MAX (pF) L-G at VR = 0V | Lines: Uni-directional Protection | Lines: Bi-directional Protection | Pin/Package | EV Kit Available? |
| UM5404EEDF | 用于高速线路保护的4线ESD保护二极管阵列 | ACTIVE | USB and Ethernet Protection | IEC 61000-4-2 (ESD); IEC 61000-4-4 (EFT); IEC 61000-4-5 (Lighting) | 200 | 5 | 2 | 6 | | 2 | 4 | 0 | 6/DFN 1.6×1.6 | |
View All>>
Product Description
UM5404EEDF is
surge rate

d diode arrays designed to protect high speed data interfaces. This series has been specifically designed to protect sensitive components which are connected to data and transmission lines from over-voltage caused by ESD (electrostatic discharge), electrical fast transients (EFT) and lighting.
The unique design incorporates surge rated, low capacitance steering diodes and a TVS diode in a single package. During transient conditions, the steering diodes direct the transient to either the positive side of the power supply line or to ground. The internal TVS diode prevents over-voltage on the power line, protecting any downstream components.
UM5404EEDF has a low typical capacitance of 1pF and operates with virtually no insertion loss to 2GHz. This makes the device ideal for protection of high-speed data line such as USB2.0, Firewire, DVI and gigabit Ethernet interface.
The low capacitance array configuration allows the user to protect four high-speed data or transmission lines. The low inductance construction minimizes voltage overshoot during high current surges. This device is optimized for ESD protection of portable electronics. They may be used to meet the ESD immunity requirements of IEC 61000-4-2, Level 4 (±15kV air, ±8kV contact discharge).
Features
- Transient Protection for High-Speed Data Lines to
IEC 61000-4-2 (ESD) ±20kV (Air), ±12kV (Contact)
IEC 61000-4-4 (EFT) 40A (5/50ns)
IEC 61000-4-5 (Lighting) 10A (8/20µs)
- Array of Surge Rated Diodes with Internal TVS Diode
- Protects up to Four I/O Lines & Power Line
- Low Capacitance (<1pF) for High-Speed Interfaces, No Insertion Loss to 2.0GHz
- Low Leakage Current and Clamping Voltage
- Low Operating Voltage: 5.0V
Applications
- USB 2.0
- USB OTG
- 10/100/1000Mbit Ethernet
- Monitors and Flat Panel Displays
- Digital Visual Interface (DVI)
- High-Definition Multimedia Interface (HDMI)
- SIM Ports
- IEEE 1394 Firewire Ports
Pin Configurations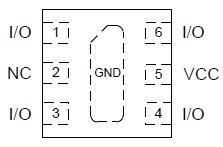 (Top View)
Circuit Diagram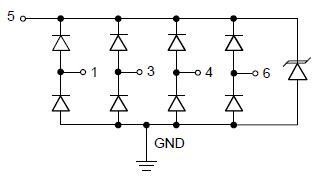 Electrical Characteristics (Note 1)
Parameter

Symbol

Test Conditions

Min

Typ

Max

Unit

Reverse Stand-Off Voltage

VRWM

VCC to GND

5.0

V

Reverse Breakdown Voltage

VBR

IT=1mA,

VCC to GND

6.0

V

Reverse Leakage Current

IR

VRWM=5V,

VCC to GND

2

µA

Clamping Voltage

VC

IPP=1A, 8/20µs

Any I/O Pin to GND

8

10

V

Clamping Voltage

VC

IPP=5A, 8/20µs

Any I/O Pin to GND

12

15

V

Junction Capacitance

Cj

VR=0V, f=1MHz

Any I/O Pin to GND

2

pF

VR=0V, f=1MHz ,

Between I/O Pins

1

pF

VR=0V, f=1MHz

VCC to GND

60

pF

VR=2.5V, f=1MHz

VCC to GND

40

pF

Reverse Recovery Time

Trr

Any I/O Pin to VCC

130

ns

GND to VCC

300

ns

GND to any I/O Pin

400

ns
Note 1: I/O pins are pin 1, 3, 4 and 6
Ordering Information
Part Number

Working Voltage

Packaging Type

Channel

Marking Code

Shipping Qty

UM5404EEDF

5.0V

DFN6 1.6×1.6

4

UDF

3000pcs/7 Inch

Tape & Reel