Key Specifications
| | | | | | | | | | | | |
| --- | --- | --- | --- | --- | --- | --- | --- | --- | --- | --- | --- |
| Part Number | Description | Status | VCCA(Min)(V) | VCCA(Max)(V) | VCCB(Min)(V) | VCCB(Max)(V) | Max Data Rate(Mbps) | No. of Bits | Operating Temperature Range(℃) | Pin/Package | EV Kit Available? |
| UM3208UK | 具有自动方向检测和±15kV ESD保护的8位双向电压电平转换器 | ACTIVE | 1.65 | 3.6 | 2.3 | 5.5 | 100 | 8 | -40 to 85 | TSSOP20 | Y |
View All>>
Product Description
The UM3208 is 8-channel ESD-protected level translator provides the level shifting necessary to allow data transfer in a multi-voltage system. Externally applied voltages, VCCB and VCCA, set the logic levels on either side of the device. A low-voltage logic signal present on the VCCA side of the device appears as a high-voltage logic signal on the VCCB side of the device, and vice-versa. The UM3208 bidi­rectional level translator utilizes a transmission-gate ­based design to allow data translation in either direction (VCCA↔VCCB) on any single data line. The UM3208 accepts VCCA from +1.65V to +3.6V and VCCB from +2.3V to +5.5V, making it ideal for data transfer between low-voltage ASICs / PLDs and higher voltage systems.
The UM3208 enters a three-state output mode to reduce supply current when output enable (OE) is low. The UM3208 is designed so that the OE input circuit is supplied by VCCA. ±6kV ESD protection on the VCCB side for greater protection in applications that route sig­nals externally.
The UM3208UK is available in TSSOP20 package.

Features
- 1.65V to 3.6V on A Port and 2.3V to 5.5V on B Port (VCCA≤VCCB)
- Bidirectional Level Translation
- No Power Supply Sequencing Required, VCCA or VCCB Can be Rampde First
- Low Power Consumption
- Latch-Up Performance Exceeds 100mA
- ±6kV ESD Protection on B Ports
Applications
- Low-Voltage ASIC Level Translation
- Smart Card Reader
- SPI, Micpower and I2C Level Translation
- Cell-Phone Cradles
- Portable POS Systems
- Portable Communication Devices
- Low-Cost Serial Interfaces
- Cell-Phones
- GPS
- Telecommunications Equipment
Pin Configurations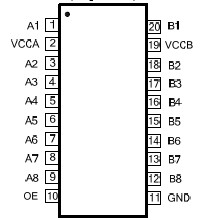 (Top View)

Ordering Information


Part Number

Packaging Type

Marking Code

Shipping Qty

UM3208UK

UM3208UK

3000pcs/13Inch

Tape & Reel