Key Specifications
| | | | | | | | | | | | | |
| --- | --- | --- | --- | --- | --- | --- | --- | --- | --- | --- | --- | --- |
| Part Number | Description | Status | SubFamily | VCC(Min)(V) | VCC(Max)(V) | Configuration | Bandwidth(Max)(MHz) | ICC(Max)(mA) | Ron(Typ)(Ohms) | Operating Temperature Range(℃) | Pin/Package | EV Kit Available? |
| UM7227MA | 高速,UART, USB2.0(480 Mbps)双刀双掷(DPDT)开关 | ACTIVE | High Bandwidth Switch | 2.7 | 5.5 | 2 × DPDT | 750 | 0.001 | 9.8 | -40 to 85 | 10/MSOP | Y |
View All>>
Product Description
The
UM7227QA/UM7227MA
is a dual port high-speed, low-power data switch optimized for USB 2.0 signal switching. The UM7227QA/UM7227MA switch is configured in double-pole/double-throw DPDT. It handles bidirectional signal flow, achieving a 750 MHz -3dB bandwidth, and a port to port crosstalk and isolation at -42dB at 250MHz.
The UM7227QA/UM7227MA operates from a single +2.7V to +5.5V supply, with current consumption less than 1 uA.
The UM7227QA/UM7227MA features wide bandwidth and low bit-to-bit skew allow it to pass high-speed differential signal with good signal integrity, offers little or no attenuation of the high-speed signals at the outputs. Its high channel-to-channel crosstalk rejection results in minimal noise interface. Its bandwidth is wide enough to pass high-speed USB 2.0 differential signals (480Mbps). The control logic threshold is guaranteed to be compatible with 1.8V logic.
The UM7227QA is available in Pb-free QFN10 package (1.4mm×1.8mm×0.55mm), the UM7222MA is available in Pb-free MSOP10 package . They are ideal for portable high speed mix signal switching application.
Features
- Ron is Typically 9.9Ω at VCC=3.6V
- OVT on D+ and D- up to 5.5V
- Power OFF Protection: When VCC=0V, D+ and D- can Tolerate up to 5.5V
- Low Crosstalk: -42dB (250MHz)
- Low Current Consumption:
<
1µA
- Near-Zero Propagation Delay: 250ps
- Channel On-Capacitance: 6.5pF (Typical)
- VCC Operating Range: +2.7V to +5.5V
- 550MHz Bandwidth (or Data Frequency)
- Lead (Pb)-Free MSOP10 and QFN10 Packages
- ESD Rating: ±5kV I/O to GND
Applications
- Differential Signal Data Routing
- USB2.0 Signal Routing
- Cell Phone, PDA, Digital Camera and Notebook
- LCD Monitor, TV and Set-Top Box
- MIPI Siginal Routing
Pin Configurations

(Top View)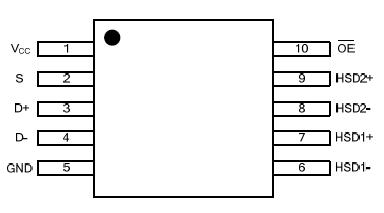 UM7227MA
Function Table


| | | | |
| --- | --- | --- | --- |
| /OE | S | HSD1+, HSD1- | HSD2+, HSD2- |
| 1 | X | OFF | OFF |
| 0 | 0 | ON | OFF |
| 0 | 1 | OFF | ON |
Ordering Information
Part Number

Packaging Type

Marking Code

Shipping Qty

UM7227MA

MSOP10

UM7227MA

3000pcs/13Inch

Tape & Reel