Key Specifications
| | | | | | | | | | | | | | | | |
| --- | --- | --- | --- | --- | --- | --- | --- | --- | --- | --- | --- | --- | --- | --- | --- |
| Part Number | Description | Status | SubFamily | Regulated Outputs(.) | Vin(Min)(V) | Vin(Max)(V) | Vout(Min)(V) | Vout(Max)(V) | Iout(Max)(A) | Topology | Special Features | Frequency(kHz) | Operating Temperature Range (°C) | Pin/Package | EV Kit Available? |
| UM3429S | 600mA,500kHz,同步升压型DC-DC转换器 | ACTIVE | Step-Up (Boost) Converter | 1 | 0.5 | 5 | 2.5 | 5 | 0.6 | Synchronous Boost | Enable, Pulse Skipping Mode, Anti-Ringing Control | 500 | -40 to 85 | 6/SOT23 | Y |
View All>>
Product Description
The UM3429 is synchronous rectified, fixed frequency, step-up DC/DC converter series delivering high efficiency in low profile SOT23-6 package. It features true output load disconnection and adjustable output. With an internal NMOS switch, PMOS synchronous rectifier and high switching frequency of 500KHz, the UM3429 is capable of supplying 3.3V output at 100mA from a single AA cell input or 250mA from a 2-cell AA input using low profile inductors and ceramic capacitors.
Current mode PWM control with internal compensation as well as the synchronous rectifier and 500KHz high frequency lead to the fewest number of external parts needed thereby saving BOM cost and PCB area. At light load, UM3429 enters automatically into pulse skipping mode to keep high efficiency. An internal resistor will be connected to VIN when the switch is idle that eliminates switch ringing and reduces EMI interference.
The device also features low shutdown current lower than 1μA, inrush current limit.
Features
- Up to 92% Efficiency
- Output Load Disconnection
- Internal Synchronous Rectifier
- Low Voltage Start-Up: 0.85V
- Input Current Limit
- Pulse Skipping Mode Operation with Typical IQ as 20μA
- Shutdown Current Lower than 1µA
- 1MHz Switching Frequency for Low Profile Inductor/Capacitor
- Input Voltage: 0.5V to 5.0V
- Output Voltage: 2.5V to 5.0V
- Anti-Ringing Control to Reduce EMI
Typical Application Circuit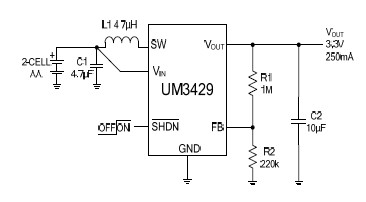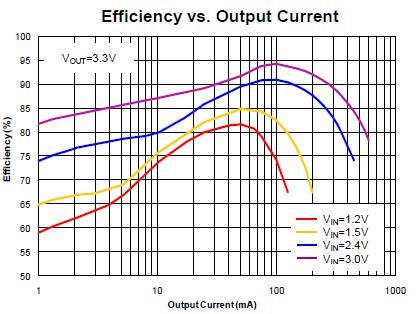 Applications
- Digital Cameras
- LCD Bias Supplies
- Handheld Instruments
- Wireless Handsets
- GPS Receivers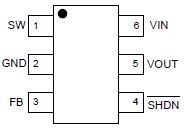 UM3429S


Ordering Information


Part Number

Packaging Type

Marking Code

Shipping Qty

UM3429S

SOT23-6

UCQ

3000pcs/7Inch

Tape & Reel